Todos los que hemos jugado con al menos una consola en nuestras vidas recordamos ese juego especial con el que pasábamos horas sin descansar, ese juego que casi nadie conocía y no lográbamos entender como algo tan bueno y entretenido no es mas amado por los fans? Porqué su compañía lo ha dejado en el olvido?
Aquí hay una lista de 5 juegos que si no has jugado aún, deberías empezar ya. No habrán spoilers en ninguno de los juegos, así que si te causan curiosidad no es tarde para descubrir lo que pasa por ti mismo.
1.- Ghost Trick: Phantom Detective


Plataformas: Nintendo DS, iOS
Ghost Trick: Phantom Detective (también conocido como Ghost Trick: Detective Fantasma) es un juego desarrollado por Capcom y dirigido por Shu Takumi (el creador de la serie Ace Attorney). Esta aventura gráfica llena de interesantes puzzles nos pone en la piel de Sissel, nuestro protagonista quien despierta dándose cuenta de… que acaba de morir. Eso, y no recuerda nada de su vida pasada. Con la ayuda de un misterioso espíritu que se hace llamar Ray, Sissel descubre que sue muerte le ha otorgado unos poderes especiales, los que le permiten poseer y manipular objectos en el plano físico. Con estos poderes, Sissel decide investigar y contestar sus mas grandes preguntas; quien era el? Porque lo han asesinado?
Un juego que se puede facilmente terminar en 10 horas, Ghost Trick presenta unos interesantes puzzles con una mecánica muy simple pero que en ningún momento se hace aburrida, pues cada objecto que manipulas hace algo diferente, lo que nunca hace la solución previsible y te motiva a buscar otras alternativas al fallar. La historia no se queda atrás, con varios giros de trama inesperados que le van dando mas y mas sentido al misterio principal. Con unos personajes inolvidables y una trama cuidada en el mas minimo detalle, Ghost Trick es un juego que te cautivará tan solo con el primer capitulo.
2.- OFF


Plataforma: PC
Desarrollado por Unproductive Fun Time y diseñado por Martin Georis (mejor conocido como Mortis Ghost), OFF es un juego francés RPG indie que en su sencillez es mucho mejor de lo que uno espera. Al empezar el juego, este te informa que se te ha asignado control de un hombre llamado el Bateador, y tienes que ayudarle a completar su misión. Sin mas información, empiezas en la zona tutorial del juego, la primera de otras 4, donde un extraño gato que se hace llamar el Juez te enseña las mecánicas del juego. Y así es como empieza to misión para purificar las zonas.
El estilo de pelea no difiere mucho de un RPG normal, con elementos que te dan ventaja o desventaja, miembros que agregar a tu equipo y objectos que te pueden curar o ayudar en la pelea, aunque los jefes pueden llegar a tomarse su tiempo, así que se recomienda obtener bastante experiencia antes de llegar a ellos. Tiene uno que otro puzzle, y algunos de ellos se pueden hacer tediosos sin la paciencia de sentarse a pensar un buen rato, una guía para estos puede ser util si prefieres la acción.
Con una historia tan confusa como interesante, unos gráficos igualmente extraños y una soundtrack única – y hasta caotica en ciertas partes – compuesta por Alias Conrad Coldwood (y créanme, desde la primera pelea Pepper Steak es inolvidable), OFF es un juego excelente para todo fan de los RPG y Undertale- aunque no lo parezca, si es algo que a ellos les gustaría.
3.- NiGHTS into dreams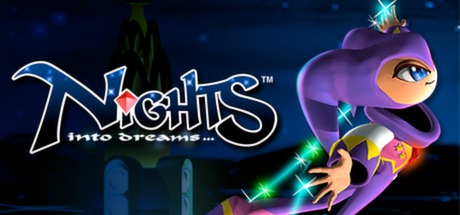 Plataformas: Sega Saturn, PC, PS2, PS3, Xbox 360
Un trabajo de Sonic Team, NiGHTS into dreams es un juego cuya mecánica principal es el vuelo (no, no es como Superman 64). El juego presenta 7 niveles repartidos entre los dos niños que lo protagonizan junto a NiGHTS, Elliot y Claris, con 3 niveles para Elliot, 3 para Claris y un nivel final en donde ambos son jugables. Una noche, a través de sus pesadillas, estos llegan al mundo de los sueños, Nightopia. Aquí, ayudarán a NiGHTS a derrotar el governante de la zona de las pesadillas, Wizeman, quien planea robar la energía de los sueños de los humanos para conquistar al mundo.
La trama es bastante sencilla, acompañando un gameplay bastante parecido a un platformer tradicional: el niño que elegiste se fusionará con NiGHTS, y tendrá que volar a través de un recorrido y recoger las orbes azules esparcidas por el nivel antes de que se acabe el tiempo. Recoger orbes te dará mas tiempo y chocar con los enemigos te restará unos segundos. Luego viene una pelea con un jefe, donde tienes que derrotarlo antes de que se te acabe el tiempo.
Es un juego bastante corto, con escenarios y gráficos muy coloridos pero que no distraen del objetivo y musica entretenida, una buena opción si quieres un juego divertido pero sin tener que pasar horas y horas en el.
4.- Okamiden


Plataforma: Nintendo DS
Seguramente ya conoces Okami, especialmente ahora que acaba de tener un hermoso remake, pero llegaste a conocer su sequela?
Okamiden es un juego de aventura y acción que sigue la historia de Chibiterasu, el hijo de Amaterasu quien deberá liberar las tierras de Nippon de los espíritus malignos que la plagan aún después de la muerte de su amo. Tal como su madre, Chibiterasu posee el poder del Pincel Celestial, aunque siendo tan joven, no es capaz de controlarlo totalmente. Durante su aventura, Chibiterasu encontrará los hijos de los espíritus del pincel, los que le otorgarán nuevos poderes que usar con el mismo.
El gameplay utiliza la pantalla táctil de la consola para interactuar con el escenario y los enemigos, permitiéndote parar el tiempo al invocar una hoja de papel donde puedes usar el pincel de varias maneras, reparando cosas, haciendo que los arboles florezcan, cortando enemigos, manipulando plantas, agua, fuego entre otras. La tinta y el tiempo a la hora de pintar son limitados, así que tienes que usarlos con cuidado. Cuando haces algo con el pincel para ayudar a los demás, te dará experiencia, y al subir de nivel recargará completamente to vida y botellas de tinta, además de aumentar la capacidad máxima. Los minijuegos presentes no son demasiados como para interrumpir completamente el juego, pero lo bastante entretenidos como para no fastidiar, mientras que los puzzles pueden llegar a tomar algo de tiempo para entender, pero no tanto como para llegar a ser molestos usualmente.
Si te gustan los juegos al estilo de Zelda, Okamiden definitivamente es para ti.
5.- The liar princess and the blind prince


Plataformas: Nintendo Switch, PS4, PSvita
Un juego bastante reciente, apenas salió este año y por ahora solo en Japón, The liar princess and the blind prince (La princesa mentirosa y el principe ciego) es un juego de perspectiva lateral de acción y aventura.
En el bosque vive un monstruo con una hermosa voz que adora cantar. El principe, curioso por el hermoso canto que escuchó, se acerca para escuchar mas, pero entonces el monstruo, creyendo que el principe vio su verdadera forma, se asusta y ataca al principe, quien queda ciego. Llena de remordimiento, el monstruo busca a una bruja para encontrar una manera de ayudar al principe, y se ve obligada a renunciar a su hermosa voz para tener una forma humana y poder acercarse a el. Mintiéndole al principe sobre quien es en verdad, ella lo saca del castillo y lo lleva al bosque para que la bruja pueda curar sus ojos.
El gameplay del juego es sencillo, per entretenido: la princesa puede guiar al principe a través de los various obstáculos, mientras que cuando se convierte en monstruo puede pelear contra las criaturas del bosque para protegerlo. Unos puzzles del juego requieren que ella se convierta en monstruo o princesa para poder seguir.
Ademas de un buen gameplay, este juego tiene una hermosa musica, un precioso estilo de dibujo y una trama que, aunque sencilla y sin muchos giros, te hace querer saber como va a terminar. Si te llama la atención, en 2019 el juego será publicado en Norte America y Europa, junto con una edición limitada que incluirá la soundtrack del juego y un libro.
Allí tienen 5 juegos que se merecen mas atención y cariño, ya conocían alguno de estos? Que les parecen?