In this tutorial you will know the basic features of the #Brave browser , you will know how to configure your wallet and register as a content creator so you can start receiving your tokens #BAT (Basic Attention Token) 
What is Brave?
Brave is an open source web browser based on Chromium, was created by the Brave Software company, founded by the co-founder of the Mozilla project and creator of JavaScript, Brendan Eich. It is a browser focused on privacy, with ad blocking and online trackers incorporated by default, so you do not need to install programs like AdBlock. Now, if the content creators can not generate advertising revenue because Brave blocks all the advertising by default, then how are they rewarded? At this point, Basic Attention Token enters.


What is BAT? (Basic Attention Token)
Basic Attention Token (hereinafter BAT) is a cryptocurrency created in the Ethereum network, designed so that advertisers can reward the creators of content and users who give attention to them, in a more private and less intrusive way through of the blockchain and to prove that the concept works, they tend to distribute tokens to encourage this new ecosystem.
How do I install and configure Brave to receive my BAT tokens monthly?
Very easy, you only need a computer (for now you can not receive BAT on mobile devices), create a youtube channel (you have to upload at least one video with audio and that lasts at least 4 minutes) and an account on UpHold (eye has to be verified the uphold account) which is where the tokens are going to deposit you.
Step 1
Downloads the direct link browser: https://bit.ly/2Ffh5li and install it.
Step 2
Click on the top right corner of the browser (1) and enable «brave rewards» in «JOIN REWARDS» (2), then the browser will create a wallet and tell you if you have a reward to claim, accept it to receive the in Tokens BAT if the reward does not appear is because you have to wait for the next month you will pay every month so do not worry but you have to use the browser 30 days to have your payment secure.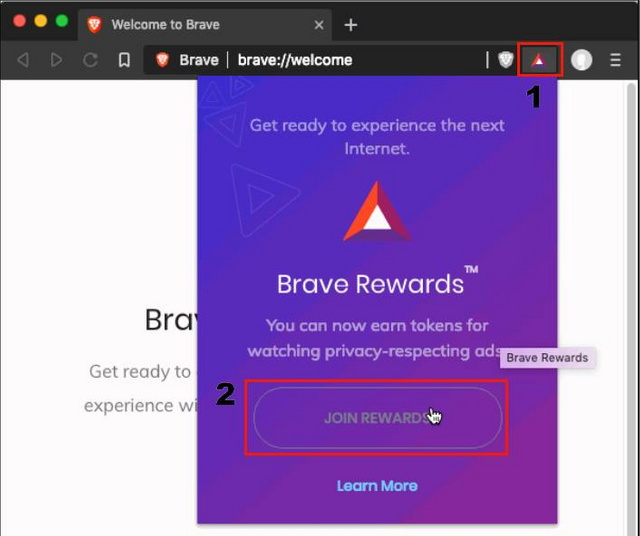 How do I remove Bat tokens?
To withdraw them you have to register in brave rewards as publisher by entering here: 

https://publishers.basicattentiontoken.org/publishers/sign_up
then add the media where you want to receive them (1), it can be a YouTube channel, Twitch or web page (process that may take a few days, but can be deposited as well and when they verify they will credit the tokens that they owe). The easiest way to remove them is through a YouTube channel and to verify the channel just upload any video you want to your YouTube channel and you will be verified, creating a YouTube account is the simplest thing.
In this section is where you will place your link to your YouTube channel or your web page, you can also see your reference link that gives you $ 5 for each reference that the browser has installed by an is and that at least give you a use of 2 to 3 times a day.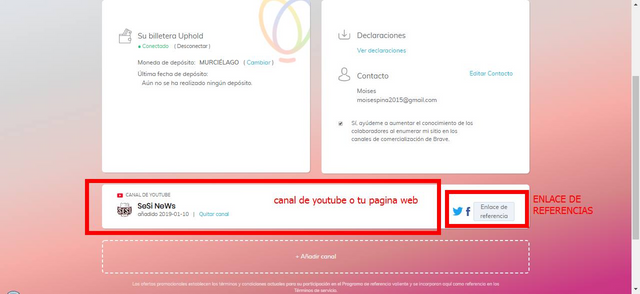 (!) Remember that you need to link your uphold account (VERIFIED)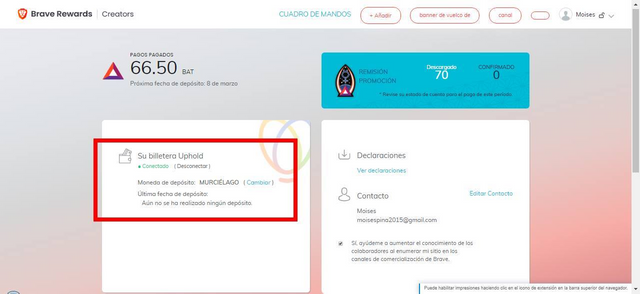 Now you simply navigate to the channel to click on it, open the drop-down menu (1) and you will have the option to send a tip (2), choose the amount you want to send in the next menu, send it and go! The shipment will appear in the history of your wallet. You are practically sending the tekens to yourself. so you send the tokens to the channel affiliated with your publisher account, that is, to your YouTube channel or affiliate page.



after that they will appear the next day in your brave publisher account where they will also tell you the date when they will deposit you in UPHOLD.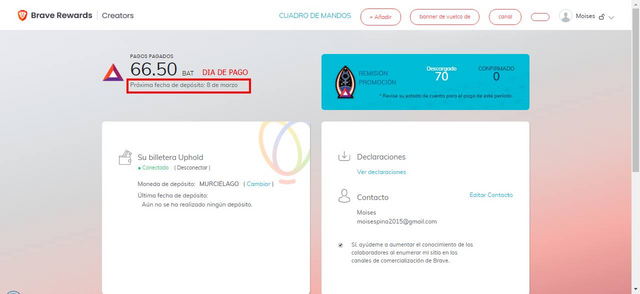 IMPORTANT:
The Tokens are distributed and charged monthly, so do not forget to check your wallet every now and then to see if there is any active promotion or your tokens were given to you.

What you are doing with this whole process is to send the tokens to yourself, but you can also contribute with other channels that support this revenue model.
UPDATE MARCH 1 in the next few months brave will activate your section of ads where you can earn daily bats for using your browser but the payment will remain monthly but more profits